Corporate Barcode Software Screenshots
Corporate Barcode Designer Software creates a list of barcodes using random, sequential, and constant value series options. Program creates printable barcodes with the option to copy and paste barcodes in any application such as MS Word, MS Excel, MS Paint, etc. Barcode maker has the facility to add photos or images, text, signatures, etc. to business barcode labels. The software allows you to save generated barcode images in different file formats, including JPG, PNG, WMF, GIF, and PDF. You can easily print your designed barcode labels with either manual or pre-defined label stock printing mode. Barcode maker program provides a batch processing series feature to create multiple series of barcode labels with different barcode and text values. Software is developed with inbuilt email settings to send designed barcode labels to specified email IDs.
To generate barcode labels using Barcode Label Maker Corporate Edition Software, follow the following steps:
Step1: Barcode Software has two designing modes: "Quick Barcode Mode" and "Barcode Designing Mode".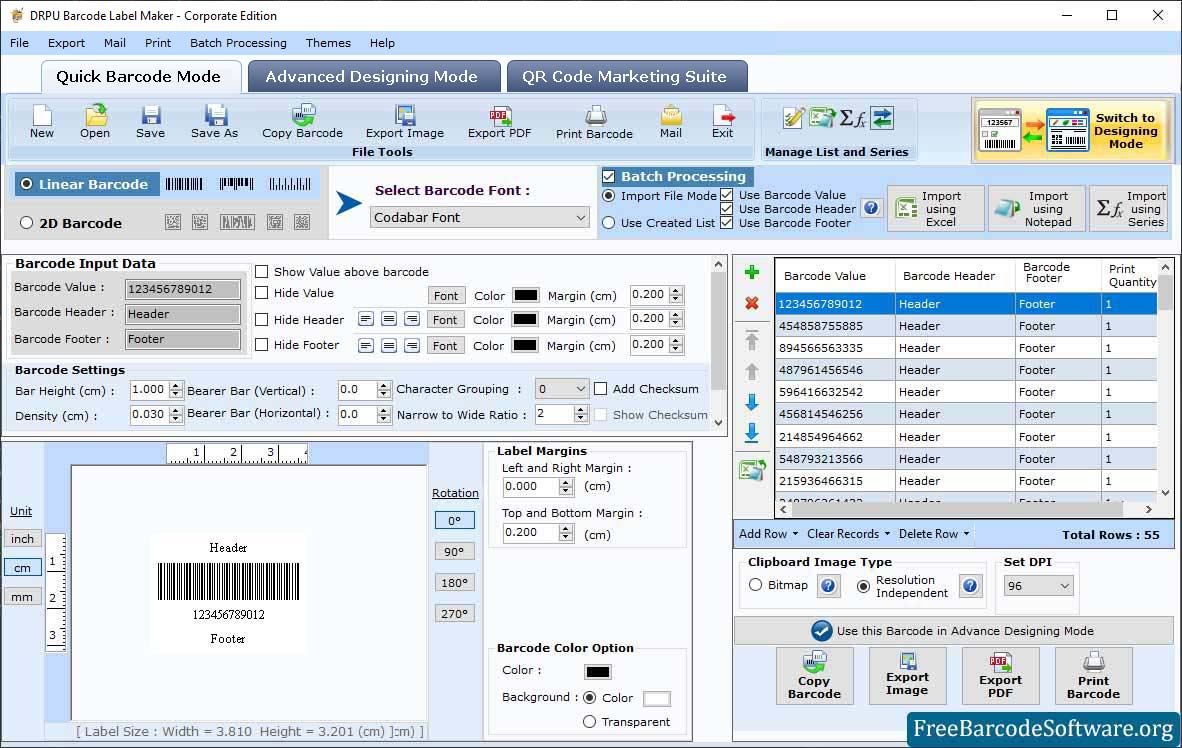 ➣ First Choose a barcode technology (Linear or 2D barcode) and a font type (Codabar Font or QR) based on your business needs.
➣ Then set the barcode value, header, and footer margins. You can also make changes to font settings, color settings, and image settings.
➣ Software provides a batch processing series feature to design multiple barcodes at a time. By enabling the Batch Processing option, you can import a custom excel data sheet to design bulk barcodes.
➣ Include a checksum to ensure the information on the barcode is correct.
---
Step2: Choose Barcode Designing Mode to design a label with multiple barcodes by changing the "Label Properties" settings.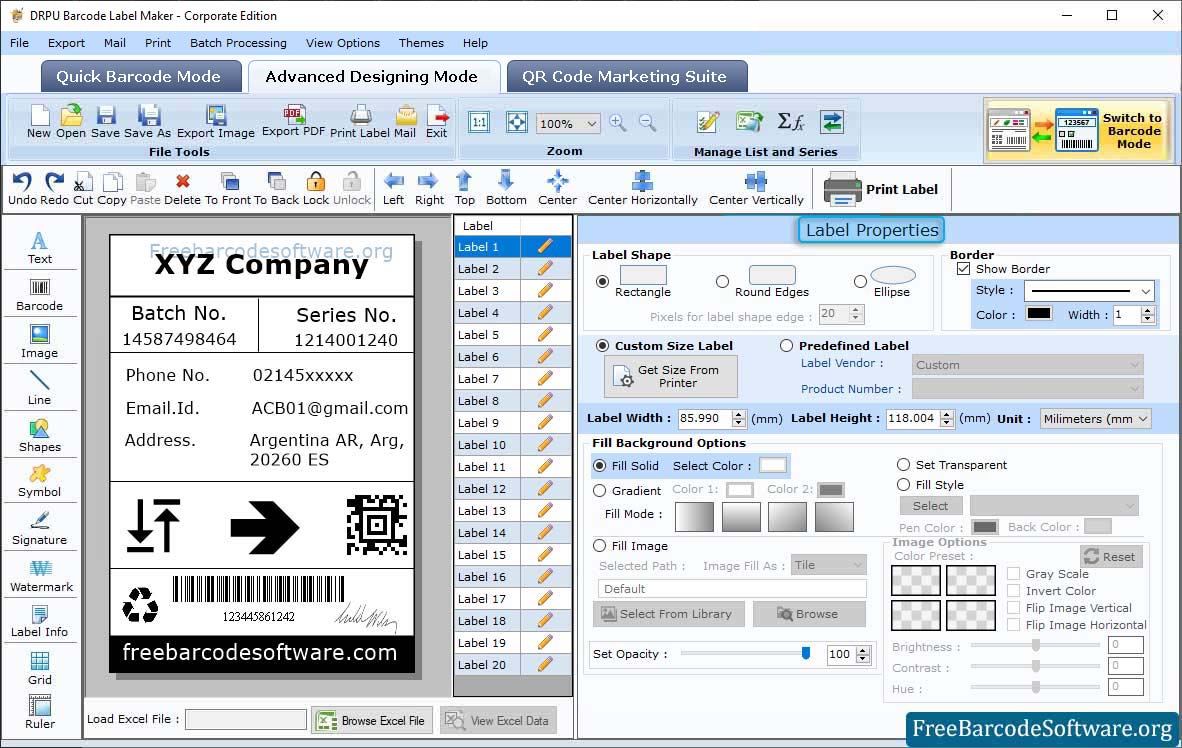 ➣ User can select the label shape from rectangle, round edges, or ellipse and enter the label width and height as needed using Label Properties.
➣ Open Label Properties then set Fill Background and Image Options.
➣ Select picture from the library and add it on the card then set the brightness and contrast of the image.
➣ Double click on the barcode to open the Barcode Properties then set the value according to your requirements.
---
Step3: After completing your label designing part, print the barcode label using the advanced print settings.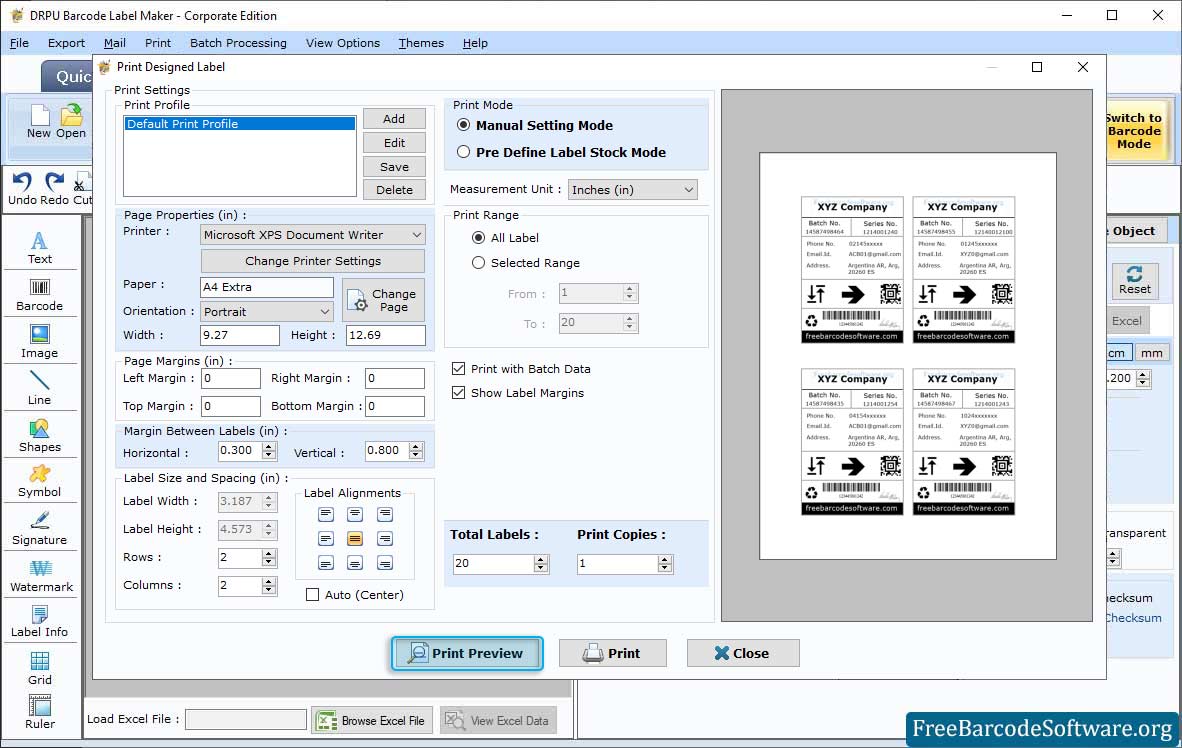 ➣ To print designed barcode, go to print button from tool bar and select print mode. In case of Manual mode, set attributes accordingly.
➣ Software provides two printing modes, such as Pre-defined Label Stock or Manual Print Mode.
➣ You can easily print barcode labels with predefined label templates, including Ace Label, A-ONE, APLI, and Unistat.
➣ Programme also allows you to manually print barcode labels by changing the print settings, page properties, label size, spacing, and page margin according to your needs.
➣ Using the "Print Preview" button, you can see the barcode label print preview before printing to avoid printing errors.